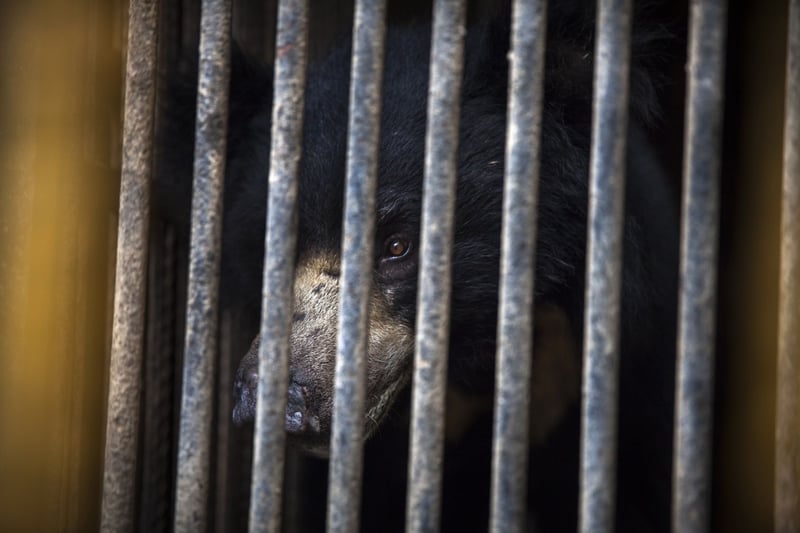 Rangila the last "dancing bear" finally arrives safely at sanctuary
News
After a series of dramatic ups and downs, Nepal's last known \"dancing bear\" arrived today (July 11) at a specialist sloth bear sanctuary in India. He was wrongfully placed in a substandard zoo earlier in 2018
Rangila will spend the rest of his life being cared for by sanctuary staff, and we couldn't be happier for him.
Journey to freedom
Rangila's journey from the zoo in Nepal to the sanctuary in India took 30 hours. It was the final step to ensuring he lives the remainder of his life in safety and good health.
The vet on the scene confirmed that he was fit to travel, but noted that the Rangila is exhibiting psychological stress and trauma that could take him years to recover from.
Rangila and another sloth bear, Sridevi, were dramatically rescued from a life of suffering rescued late last year by us, the Jane Goodall Institute of Nepal and Nepali police.
The bears were placed in temporary accommodation at Parsa National Park with the intention of moving them on to the sanctuary in India.



However, they were instead secretly moved to a substandard zoo in Kathmandu that provided terrible conditions.
Tragically, Sridevi died whilst in the care of the zoo, which has been previously criticized for its extremely poor conditions.
Unanswered questions
We still don't know why the bears were moved to the zoo, or why neither us nor the Jane Goodall Institute of Nepal were consulted.
After the shocks of their move and Sridrevi's tragic death, together with Jane Goodall Institute Nepal, we pressured the Nepal government to provide vital information about Rangila's welfare and to release him to the sanctuary in India, where he is now.
Stolen from the wild
Bears like Rangila are snatched from their mothers at an early age and forced to perform. Their owners pierce their noses with a burning hot rod and put a rope through it so they can control them.
Harsh training methods are then used to make them submissive enough to perform for people.
No animal should be subjected to such cruel and traumatizing abuse.
Rangila was the last known bear in Nepal to endure such suffering.
A huge relief
"This is amazing news. After months of tirelessly working behind the scenes, Rangila has finally arrived at a specialist sanctuary in India, where he can be properly cared for and rehabilitated," said Neil D'Cruze, our senior wildlife advisor.
"We couldn't be happier to see Rangila finally being transferred to his new home. We hope he can now live the rest of his life in peace," said Manoj Gautam, of the Jane Goodall Institute of Nepal.
To read more stories about rescued animals like Rangila, sign up to receive our email updates. 
After months of tirelessly working behind the scenes, Rangila has finally arrived at a specialist sanctuary in India, where he can be properly cared for and rehabilitated