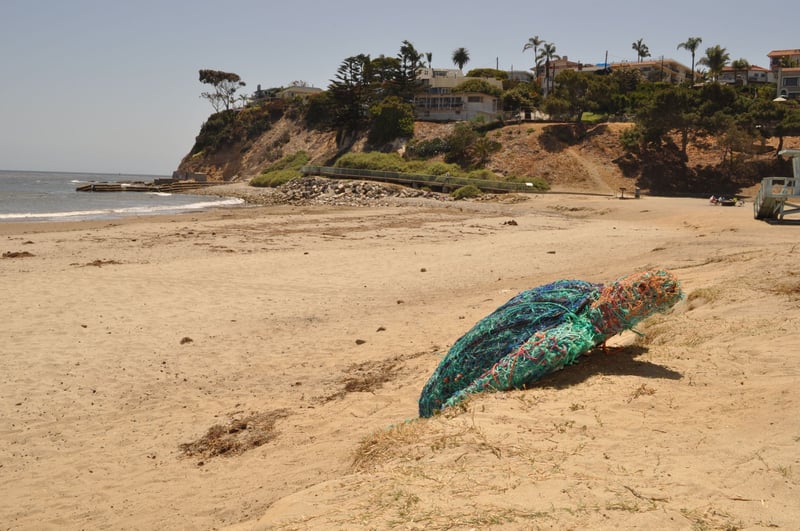 Fiona the turtle: the plastic leatherback revealing the true cost of ocean pollution
Blog
Fiona has been travelling all over the world on a mission to raise awareness of the deadly issue of ghost gear, which is ruining the lives of thousands of marine animals
Leatherback turtles are truly remarkable.
The largest of all the turtles, and the fastest of all the reptiles, these ocean giants can weigh up to 700kg. They're also extremely well-travelled.
Western Pacific leatherbacks undertake one of the greatest migrations of any air-breathing marine animal. This epic journey across the Pacific takes 10-12 months, and takes them through the territories of many different countries. Unfortunately, this migration is becoming increasingly fraught with danger, with deadly consequences.
The leatherback crisis
The Western Pacific population of leatherbacks has decreased 80% in just the last three generations, and is now listed as critically endangered. As well as threats on the beaches they use as breeding grounds, a huge hazard to these gentle creatures comes from plastic and ghost fishing gear.
Their migratory route takes them through some of the most intensively fished waters on Earth, as well as the North Pacific garbage patch – the largest accumulation of ocean plastic debris.
Many leatherbacks die from mistaking plastic for their natural prey, jellyfish. Many also find themselves entangled, and suffocate.
Meet Fiona
Fiona is not your usual leatherback turtle. She's been made entirely from salvaged ghost gear – lost, discarded or otherwise abandoned fishing equipment – by artist Katrina Slack from Cornwall, UK.
To collect the material for Fiona, and other ghost gear sculptures, we teamed up with Surfers Against Sewage. Over one weekend in 2015, 3,000 volunteers removed 150 kilometres of ghost gear from 123 beaches.
The ghost gear problem
While many people are aware of the danger that our plastic addiction poses to marine life, not many people know of the threat of ghost gear.
Ghost gear is wreaking havoc beneath the waves, killing more than 136,000 large whales, dolphins, seals, sea lions and turtles, including leatherbacks.
Once a net, hook, or other fishing equipment is set adrift, it continues doing what it was designed to do; trap and kill. It can continue to do this for up to 600 years.
Fiona's migration
The material used to make Fiona was collected in England, but its origins, much like the ghost gear issue and leatherback turtles themselves, is truly international.
Since her creation, Fiona has been on a mission to spread the word about ghost gear, and its devastating toll on leatherback turtles and other marine life.
So far, her migration has taken her from the World Animal Protection offices in London, all the way to Thai Union's offices in California, with stops at London's Natural History Museum, local events and a DEFRA meeting with heads of commonwealth nations, along the way.
Helping leatherback turtles
Alongside our partners in our Global Ghost Gear Initiative (GGGI), we advocate for best practices to be implemented in the management of fishing gear.
In July 2018, we successfully lobbied the United Nations Food and Agriculture Organisation to adopt guidelines for fishing gear to be ID tagged. This enables gear to be traced back to its source, more easily recovered and is an important tool in combatting illegal fishing.
This is a great win for animals like leatherbacks who get entangled in ghost gear. We're grateful for the support of our GGGI partners in making this happen.
Getting the industry involved
Thai Union, one of the world's largest fishing companies, joined the GGGI last year. The decision to join the initiative reflects the company's commitment to combat this issue, and it's leading by example for hundreds of other global brands who have a duty to address it. Its offices are a fitting pit stop after the first leg of Fiona's epic journey.
It's only with the cooperation and collaboration of fishing companies, such as Thai Union, other private enterprises and governments, that we will be able to make the Western Pacific leatherbacks' migration safe for future generations.
We hope Fiona's message reaches enough people, before the world loses this magnificent ocean giant.