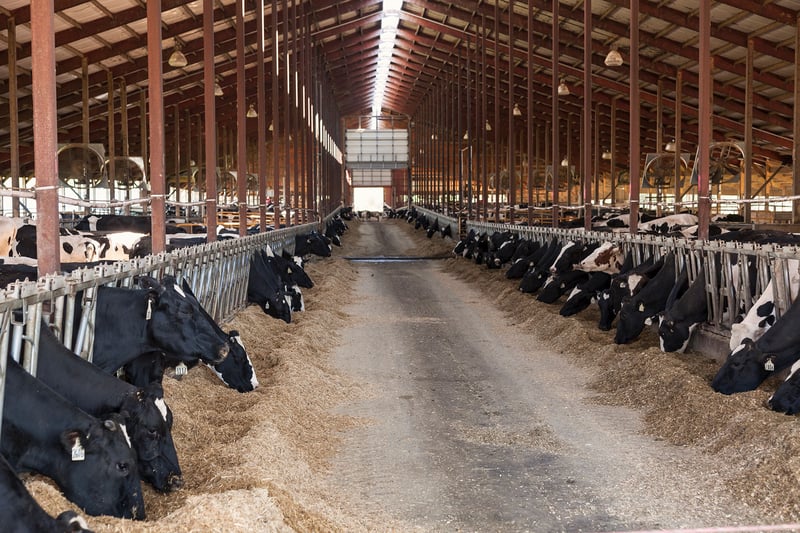 Intensive livestock farming harms people, animals and the planet
Blog
So we're calling on all Public Development Banks to halt financing for factory farming. Before it's too late.
Five key multilateral Development Banks have invested more than US$4.5 billion of public money in industrial livestock corporations in the last decade, fuelling climate change and deforestation, and destroying the livelihoods of smallholder producers. 
The banks are: 
World Bank Group (including IFC) 
Asian Development Bank 
European Investment Bank 
European Bank of Reconstruction and Development 
Inter-American Development Bank Group (including IDB Invest) 
This research by World Animal Protection and the Divest Factory Farming Campaign was released today, ahead of the Finance in Common Summit on 19 - 20 October. The event will bring together more than 500 development banks to agree actions for transforming agriculture and agri-business. 
The aim of the summit? 
To cut emissions, protect nature, tackle hunger and climate proof the food system. 
This is the moment for development banks to put their money where their mouths are. Many of them have committed to support the Paris Agreement and Sustainable Development Goals.
But so far, they are saying one thing and doing another, as they continue to fund emissions-intensive, polluting and cruel factory farming. 
It is time for these banks to stop funding factory farming and use public money to help producers move to a system with more plant-based foods, and higher animal welfare conditions.
This would reduce animal suffering, support smallholder farmers, create rural jobs, reduce climate emissions and increase resilience to climate impacts.
What are Development Banks? 
Their purpose is to promote economic development by encouraging investment and entrepreneurial activity. The banks are usually owned and financed by national governments as shareholders. 
They influence the global development agenda and can have huge environmental and social impacts. But right now, their focus is all wrong. By concentrating on short-term economic growth, they are often investing in projects that cause huge harm to animals, the environment and local communities. 
This means that the very institutions that should be at the forefront of promoting sustainable development, are actually funding projects that harm animals, people and the planet.
What does the research tell us? 
As part of the Divest Factory Farming Coalition, World Animal Protection has revealed just how much money several multilateral Development Banks have invested in intensive livestock over the last 10 years. 
And the numbers are staggering: 
World Bank Group: US$2.1 billion – mainly through the International Finance Corporation (IFC) 
Asian Development Bank: US$2.3 billion 
European Investment Bank: US$55.8 million 
European Bank of Reconstruction and Development: US$940.1 million. 
These loans represent just a fraction of the funding development banks plough into the sector – in direct contradiction of their commitments to deliver on the Sustainable Development Goals and the Paris Climate Agreement.    
Hundreds of millions more dollars are also used to support the industry indirectly through, for example, loans to companies involved in the production of animal feed.
 
A factory farming case study 
In June 2021, the IFC board approved a new loan for Ecuador's fourth largest corporation, Pronaca, to expand intensive pig and poultry production. This helped to increase the dominance of a company, which already controls more than half of the country's poultry and pork market. 
This is at the expense of the Tsáchilas Indigenous people and smallholder farmers who complained the company was polluting waterways where they fish and collect water.
The investment undermines the IFC's two overarching goals—ending extreme poverty by 2030 and boosting shared prosperity.
What should Development Banks be doing instead? 
There is overwhelming scientific consensus from the IPCC, FAO and UNEP that if we want to meet the Sustainable Development Goals and the Paris Climate Agreement targets, we must change the way we produce food. 
We must stop industrial livestock production that treats animals as mere cogs in a machine. Living in such unnatural environments, factory-farmed animals know little but pain, fear and misery throughout their whole lives. 
Development Banks should: 
Finance sustainable, plant-based proteins to end our over-reliance on meat, eggs and dairy, making healthy food choices affordable and accessible for everyone, everywhere 
Lead the way to support humane systems where farmed animals can live good lives, in positive health and free from suffering
About the Divest Factory Farming Campaign 
We are a coalition of organisations working for a more sustainable food system including Feedback, Friends of the Earth U.S., Global Forest Coalition, Sinergia Animal, World Animal Protection, Bank Information Center, International Accountability Project; and 50 by 40.
We work in partnership with social movements and Indigenous communities across the globe – to campaign against industrial livestock expansion supported by Development Banks. 
 
Join our community making a change
We are continuing to campaign to improve the lives of animals in the UK - and around the world. Sign up to our newsletter to be part of our upcoming campaigns.