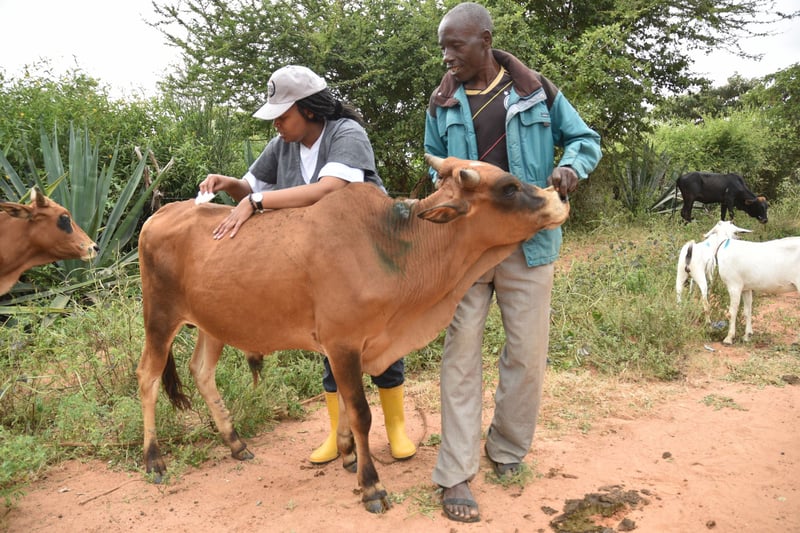 Saving animals where the need is greatest
Blog
We treated and vaccinated thousands of animals in Makueni County, Kenya in May 2018.
Heavy rains in the country between April and March 2018, saw several counties experience flash floods, bursting of river banks and mudslides, all killing people, destroying homes and washing away animals. In Makueni County, the rains affected 30 families who lost their homes and animals that are their greatest source of livelihoods.
According to statistics released by the county, 112 cattle, 29 goats, 10 sheep,119 chicken and one donkey succumbed to the disaster. Makueni is a county that experiences frequent droughts hence the rains and floods were a surprise to everyone.
Communities lack knowledge on disaster preparedness especially in flood situations.  Even when they had the information that the county would experience heavy rains, they didn't know what to do to protect themselves and the animals they keep.
A disaster causes confusion and communities barely know how to respond. Amidst evacuation activities and fleeing for safety, a lot is lost that is valuable to them. This makes it very hard to start over especially when their animals are their source of stability.
The unmatched value of animals
In places like Makueni, communities highly depend on their animals to make a living through selling of milk and meat. On a good season, a healthy goat sells for USD 60, money enough to buy food and other amenities in a household. This goes to show that the loss of animals is not only a statistic but an adverse effect to the daily living of a family.
Apart from economic gain, animals in communities have a sentimental value to families. In the African context, they are even given names as part of identity according to their strongest personality traits. For example, in some areas you'll often hear people say that they name their animals according to the amount of milk they produce, their character around people, what they subconsciously enjoy doing or a remarkable event that happened when they were born.
It is because of moments like this that we find it important to go out and save animals to enjoy a life where they are highly valued by their owners.
Vaccination and treatment exercise
Our intervention responded to flood – related diseases that erupt a month after a flood situation. Most of them include worm infestation, insect bites and tick bites leading to diseases like East Coast Fever (ECF). With the unusual wet conditions, the insects, ticks and flies' numbers in the environment, drastically go up putting the animals at risk since they're adopted to dry climate. These are the times farmers lose a great number of their livestock affecting their economic gains.
The Makueni County government through the governor, Hon.Kivutha Kibwana, was very supportive during this move. He officiated the commencing of the exercise and committed to ensure animals are budgeted for in the next financial year to protect them from deaths caused by disasters.
During the operation, the County also provided 6 veterinarians to treat and vaccinate the animals targeted during the one-week operation. In addition, we worked with the Veterinary Emergency Response Unit (VERU) to also carry out the activity across four animal crashes within the extensive county.
VERU constitutes final year veterinary medicine students who've been trained to be able to respond quickly to protect animals, effectively and safely, when disasters happen. 
Why Makueni County
For World Animal Protection, it is important that Makueni County is a good example for both Disaster Response and Disaster Risk Reduction because it is one of our champion Counties. Their case study will be part of best practice sharing on how early preparedness saves cost and protects the animals we care about.
We started working with them in 2014 and they are slowly making strides towards prioritizing animals in their programming. It is our hope that in coming years, they will be an example to other counties and by extension countries within Africa.
Our work
We work with governments and communities to prepare for disasters, enabling people to protect animals and rebuild their lives. Tens of millions of people worldwide are dependent on their animals–for food, to earn a living, to stay healthy, as companions, for status, and to stay safe. That is why the lives of animals and people are fundamentally linked.