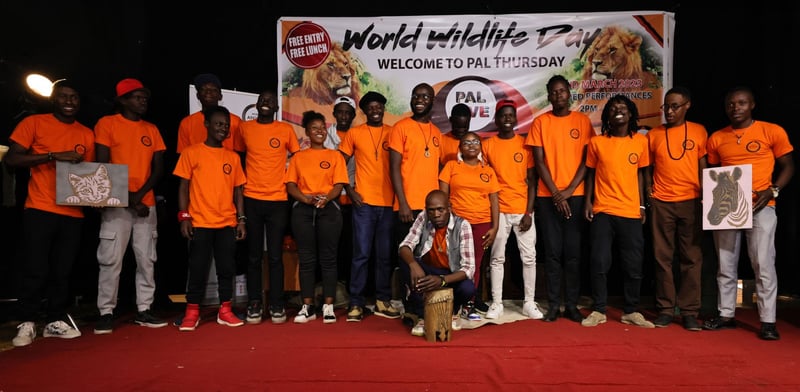 At World Animal Protection, we have had the pleasure of working with numerous talented artists who have helped us spread the message of animal welfare in an artistic way. Their unique perspectives and creativity have been instrumental in reaching new audiences and inspiring others to push boundaries. In this article, we are excited to showcase one such collaboration, which took place yesterday and left us in awe of the power of art to connect, inspire, and transform.
On 2nd March 2022, the Kenya National Theatre was the site of an inspiring and emotional event. World Animal Protection joined forces with Poetry After Lunch, local artists and young people to raise awareness about the urgent need to protect Africa's wildlife. The event was held to mark this year's World Wildlife Day (celebrated on 3rd March), which has the theme of "Partnerships for Wildlife Conservation."
Edith Kabesiime, the Wildlife Campaigns Manager at World Animal Protection, spoke at the event, stating that the collaboration with artists and young people was chosen to help reach new audiences and inspire action. We believe that by harnessing the power of art and creativity, we can create a global movement of people who respect wildlife as sentient beings and take individual and collective actions to protect them in their natural habitats.
The suffering that animals endure due to trade is heartbreaking. Wildlife trade, whether legal or illegal, has become a major threat to the survival of many species in Africa. The cruel practices that animals are subjected to during capture, transportation, and slaughter are devastating. They are often captured ruthlessly in their natural habitats, crammed into small spaces in unsanitary conditions during transportation, and then either slaughtered crudely or made to live the rest of their lives tied or caged.
Kennedy Odongo, the talent development officer at the Kenya National Theatre, also spoke at the event. "I believe that art can be a powerful tool to raise awareness on important issues such as animal welfare. I hope that our collaboration will inspire people to take action to protect all species of wildlife," Odongo said.
We urge African governments to take a precautionary approach to wildlife trade. They need to be aware of and address the health dangers of the wildlife trade. They also need to realize that wild animals are much more valuable alive than when they are dead. There is a need to recognize the intrinsic value of wild animals, as well as their contribution to the ecosystems and the planet.
The collaboration between World Animal Protection and local artists and young people in Kenya is a powerful example of how partnerships can be used to create awareness and drive action. Through events like this, we can continue to place animal welfare on the agenda, giving a voice to animals who cannot speak for themselves. "Wildlife has a right to a wild life."
The video above only provides a glimpse of the overall experience. If you want to relive more of the fantastic performances from the event, click the button below to watch more of the recorded performances.